Established in 1972
Thank you to all of our valuable customers for helping us celebrate 50 years in business!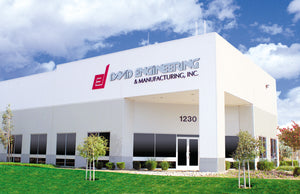 David Engineering & Manufacturing, Inc.
Your premier source for metal manufacturing including; Laser Cutting, Metal Fabrication, Metal Stamping, Welding, Robotic Welding, Laser Welding, & CNC Machining. Established in 1972 and servicing Southern California, Nevada, Arizona, and Utah.
ISO 9001 Registered
Services Offered
Laser Cutting
When tasked with proofing, form fit and function of new components with very little lead time available, CNC Laser cutting and forming is the process of choice for today's engineers. David Engineering has invested in the latest fiber technology with automation to improve quality and lead times. Whether you have 1 part or 1 million, we have you covered.
Robotic, MIG, TIG, & Laser Welding
We specialize in MIG, TIG, and Robotic MIG welding, whatever your challenge, we have you covered. See our video section to watch robotic MIG welding in action. We have 3 robotic welders with a capability for parts 4' x 10' in size.
Metal Stamping
Utilizing the latest in coil handling and CNC digital feeder technology, we offer a wide range of punch press capacity from 60 tons to 220 tons
CNC Machining
We offer CNC Milling & turning services for any size job. We have CNC bar feeding on our lathes for high volume runs. We are ready with any of your quantity requirements.
Laser Welding
Laser welding with IPG laser source provides welding that is faster than traditional welding methods with a very minimal heat affected zone which provides less distortion. Laser welding provides consistent results that is superior to TIG welding.
Bending
Using state of the art Bystronic and Amada press brakes, our parts are programmed offline for maximum repeatability and reduced downtime.