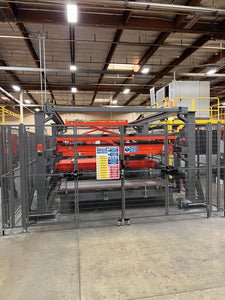 David Engineering Unveils Advanced Automation for 24x7 Operations

In an exciting development for precision laser cutting, Michael David and his father, Mike David Sr, proudly announced the integration of Bystronic's latest automation, the ByTrans Modular, into their laser systems at David Engineering. This cutting-edge addition marks a significant leap forward, enhancing the company's capabilities and allowing for uninterrupted laser cutting service.

The Bystronic ByTrans Modular is a state-of-the-art automation system that enables David Engineering to achieve continuous, round-the-clock operations, running customers' parts non-stop. This new implementation signifies the firm's commitment to optimizing efficiency and meeting the growing demands of their clientele.

"We are thrilled to embrace Bystronic's cutting-edge technology, empowering us to provide our customers with even greater reliability and faster turnaround times," expressed Michael David.

With this incorporation, David Engineering now boasts the utilization of two fully automated lasers with seamless automation. This technological advancement sets the stage for increased productivity, precision, and a more streamlined workflow within the company.

Mike David Sr added, "This addition reaffirms our dedication to remaining at the forefront of innovation in the fabrication industry. We're eager to showcase our upgraded capabilities to both our existing and prospective clients."

The enhanced automation capabilities can be explored and witnessed in action on David Engineering's website, www.Davidengineering.com. Clients can witness the advanced technology in use, ensuring a deeper understanding of the company's commitment to excellence in their services.

The implementation of the Bystronic ByTrans Modular signifies a pivotal moment for David Engineering, reinforcing their position as a leader in precision engineering while strengthening their ability to serve a diverse range of customer needs effectively.

For more information and to witness the advanced automation in action, visit www.Davidengineering.com.

This move marks the company's dedication to delivering top-tier solutions and services, positioning David Engineering as a go-to destination for precision fabrication needs, operating at the forefront of technology and innovation in the field.
---